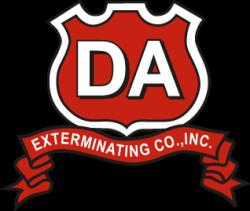 Registered Termite Technician
Featured
2020-05-11 DA Exterminating Co. 13433 Seymour Meyers Blvd., Suite 2 $2,400 - $3,000 month
Description:
Certified Termite Technician Position with DA Exterminating Co., a termite and pest control company for over 60 years, with offices in New Orleans Metro, Covington (Northshore) & Houma. We continue to experience annual growth, due in part, to our experienced team of technicians and quality customer service. Our technicians act as a team, by helping each other accomplish their daily schedule with quality work and customer service. The present position is in the Covington office, which services customers in St. Tammany, Tangipahoa & some Mississippi Gulf Coast counties.
Responsibilities:
Greet & establish rapport with new and existing DA customers

Termite treat customers' property according to State standard regulations

Conduct termite inspections and report findings to customer

Termite treat new construction of residential homes and commercial buildings

Maintain equipment in good working order

Maintain communication with customers and ensures customer satisfaction
Qualifications
Applicant with Certification/Registration in Termite Control from Dept. of Agriculture (SPCC)

1-3 years certified termite technician experience is preferred. For the right applicant, DA Exterminating offers an apprentice program to learn the position.

Outside work - year round

Excellent verbal communication and ability to interact with customers, displaying confidence & product knowledge

Ability to evaluate and problem solve

Computer skills and ability to become proficient with industry software programs

Driven, motivated and self-generated work ethic

Valid Louisiana Driver's License and clean driving record
DA Exterminating is a family owned and operated pest and termite control business, providing its customers with numerous treatment options for a wide variety of insect problems in residential, commercial and industrial structures. It continues to operate in a family atmosphere and welcoming and appreciative to all its employees. Many of our employees have been with us for 20+ years. This is a great place to work and build a career with opportunity to advance.
Do not contact this company in solicitation of any product or service.